It's alarming how many new rideshare drivers think they don't have to report and pay taxes on the self-employment income that they earn from Lyft and Uber. But who can blame them? Even seasoned taxicab drivers are misinformed. For years, cash-intensive businesses like the taxicab industry have avoided paying taxes on some of their cash transactions. Back in the old days, taxi drivers kept poor records that did not reflect their income so revenue agents would use the "cab formula" to reconstruct the drivers' gross receipts. (If you want more information on a famous tax court case, read Salami v. Commissioner.)
These days, Uber and Lyft drivers don't have to manually track their gross receipts because the "taximeters" are now automatically tracked by GPS via their mobile device. The downside to automation, however, is that Uber and Lyft automatically report drivers' 1099 income (1099-K and 1099-MISC) to the IRS every year before January 30th which means that drivers will automatically get audited by the IRS if they don't report their 1099 income on Form 1040 Schedule C on or before the original income tax due date of April 15th or the extended due date of October 15th.
NO TAX WITHHOLDING 
Unlike W-2 employees who receives a paycheck after deducting their income tax withholding, 1099 independent contractors receive their income before taxes are withheld.  The same is true for rideshare drivers. In most cases, Uber and Lyft do not withhold a portion of your income for taxes.  So be careful when you're comparing your "guarantee" payments of $20 per hour, sometimes, $25, against your W-2 paycheck.  It may feel like you're making more than your W-2 paycheck, when in reality, you have not accounted for health insurance, income taxes, and payroll taxes (a.k.a. self-employment taxes).
ESTIMATED TAX PAYMENTS 
According to the IRS, self-employed individuals are required to pay estimated taxes every year. In the good old days, taxpayers used to volunteer to pay taxes and they do so at the end of the year. But our U.S. government needed more money for the First World War so they started requiring a "pay-as-you-go" model in which taxpayers pay taxes as they earned.  That's why employers withhold taxes on taxpayers behalf (here's a cool link to the brief history of U.S. taxation). Independent contractors are not exempt from the "pay-as-you-go" model. Drivers can pay all of the estimated tax before April 15th or in four equal amounts by the following dates:
1st Payment ……………………………………………. April 15th
2nd Payment ………………………………………….. June 15th
3rd Payment …………………………………………… September 15th
4th Payment ……………………………………………. January 15th (following year)
FORM 1099-K  vs. 1099-MISC
Both forms are disclosure of self-employment income that drivers must report on Form 1040 Schedule C. Both are taxed the same. As far as drivers concern, the main difference is the level of detailed information that Uber and Lyft provides to the IRS and the state taxing authorities.
1099-K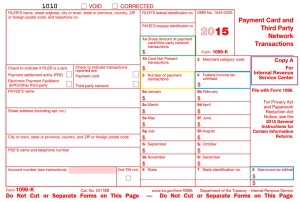 Your rideshare income will be reported on 1099-K because Lyft and Uber claims that they are only Third Party Payment System that handles the payment transaction between drivers and passengers.
Line 1a (green box) is where your gross self-employment income will be reported. Note that this amount might not match with the amount that is reported in your driver dashboard. A primary reason could be because your dashboard reports the net amount that you receive after Uber and Lyft take out their commissions. There may be other reasons why there is a difference but make sure you find out because like commissions, the difference might be tax deductible.
Line 3 ( yellow box) is the number of completed rides for the year. The IRS pays attention to this number for Audit Technique to determine if there's huge fluctuations year over year between your completed rides and gross income.
Line 4 and 8 (blue boxes) is where your tax withholding will be reported, if any. It's not unusual that these boxes are blank as most companies who hire independent contractors don't withhold taxes for their contractors. Nevertheless, the IRS pays attentions to this box and checks if you made estimated payments and/or paid taxes on your net self-employment income.
1099-MISC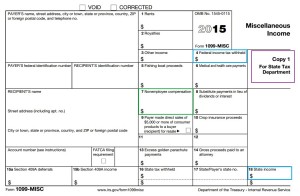 Your $700 sign up bonus and referral bonuses will be reported on Line 7 (green box) of the 1099-MISC because you are not an employee receiving compensation from Lyft or Uber.  Technically, Uber and Lyft are not required to report non-employee compensation under $600. However, last year, we've seen drivers receive 1099-MISC with amounts under the required threshold. So better be safe than sorry and report your 1099 income even if you didn't receive a Form 1099 from Uber or Lyft.
Line 4 and 18 (blue boxes) is where your tax withholding will be reported, if any. Just like the 1099-K, it's not unusual that these boxes are blank as most companies who hire non-employees don't withhold taxes. If the state department requires you to send a paper copy of this form, send them Copy 1 (purple box).